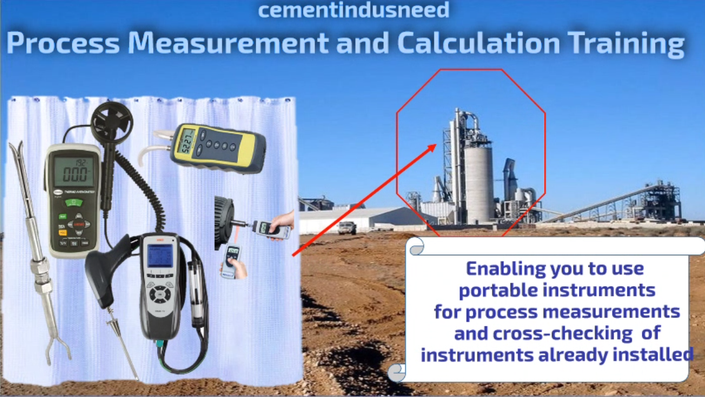 Process Measurement and Calculation Training
How to do process measurements and calculate parameters of cement plant. GRAND OFFER 70% OFF Code: CAREER2020
Watch Promo
Process Measurement and Calculation Training
FOR GRINDING AND PYRO PROCESS
---
A unique training program on process measurements and calculations for cement plant has been designed with the following goals and objectives:
Enabling you to use portable instruments like anemometer, pitot-tube, temperature and pressure meters, tachometer, gas analyser for process measurements and cross-checking (Measurement System Analysis) of instruments already installed for process control and plant operation.
Enabling you to do all process calculations like; separator efficiency, fan efficiency, drying capacity of mill, power calculations, heat loss analysis, false air calculations, air consumption (kg-air/kg-clinker), coal consumption (kcal/kg-clinker), power consumption (kWh/ton-clinker), combustion calculations, volatile recirculation etc.
Enabling you to conduct heat and mass balance, to determine the heat loss distribution profile across various parts, to find out the capacity bottleneck in the system and to know the efficiency/performance of various equipments in system.
Last but not least: Capacity development for the identification of optimization opportunities to enhance production and reduce energy consumption.
---
⇒Course Duration: 2-3 months.

---
Course Structure.
SECTION I: Course Introduction.
Introduction.
Importance and Objectives of the training Course.
Tool of The Trade.
SECTION II: Process Measurement Tools and Procedures of Use.
Anemometer for velocity and flow measurements.
Pitot tube for velocity and flow measurements.
Portable meters for temperature measurements.
Portable Radiation scanner (gun) for temperature measurements.
Portable gas analyser for flue gas composition analysis.
SECTION III: Process Calculations.
List of Calculations.
Fan Calculations.
Flue Gas and Air Density Calculations (NEW ADDITION TO COURSE).
Separator Calculations.
Pyro-Design Calculations.
Pyro-False and Excess Air Calculation.
Pyro-Heat Loss Calculations.
Combustion Calculation-Calorific Value.
Combustion Calculation- Air Requirement for combustion.
Combustion Calculations-Kiln Firing.
Grinding Calculation-Ball Mill Design.
Grinding Calculation-Ball Mill Power.
Grinding Calculation-Production Prediction at different Fineness.
KPI Calculations (NEW ADDITION TO COURSE).
Cement Mill (Ball Mill) Water Spray Calculation (NEW ADDITION TO COURSE).
SECTION IV: Applications of Measurements and Calculations
Measurement System Analysis (MSA).
Heat Balance of Pyro Section.
Heat Balance of Grinding Section.
Examination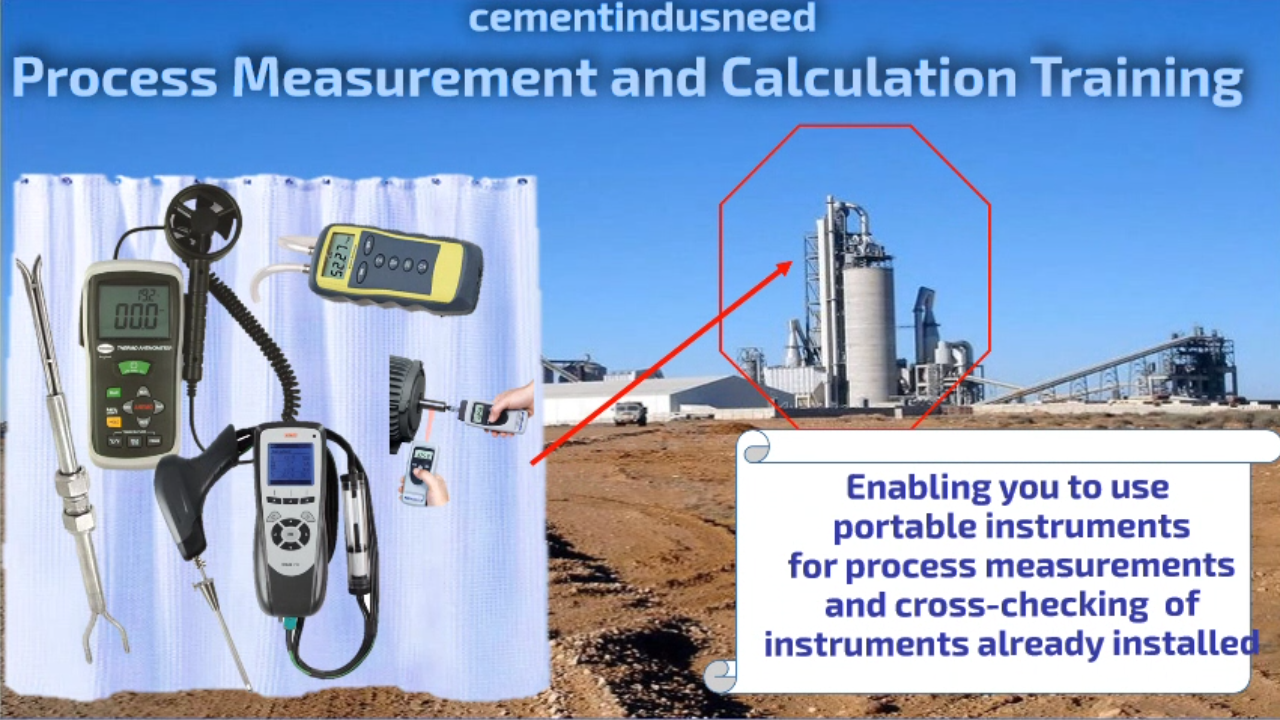 Your Instructor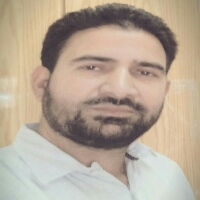 More than 16-Years of experience in cement manufacturing sector in the area of Process, Quality and Energy management, Training and Operation, Audit and Optimization. Strong Back-up work experience with FLSmidth, Thyssenkrupp, Promac and many more.